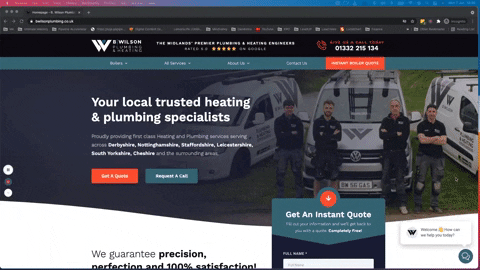 As part of our comprehensive Trades business marketing programme focused on elevating your brand and increasing sales through online marketing, one of the ways we help our Clients STAND OUT as the FIRST CHOICE in their local market is through websites and social media management.
At Lead Hero, our mission is to help local, family businesses compete with the "big boys"…national players with deep pockets like Boxt, iHeat, and British Gas. Lead Hero is levelling the playing field giving you access to the same strategies, technologies and systems used by big brands.
The sad reality is that most local businesses are not getting results from their website. If you've seen my video on the 5 Tips to Turn More Website Visitors into Customers, you'll see that we practice what we preach. We transformed B Wilson's old generic website into a LEAD CONVERSION MACHINE – with prominent calls to action, call back requests, online booking, and photos that show the authority of the business.
Automated Review And Referral System
Our automated review system helps B Wilson Plumbing get more 5 star reviews and incentive referrals with an end to end system!